Local landmark: Red Men's Hall
By WALTER AULT
GREEN LANE — There is a fascinating building on Route 29 in Green Lane that is, put succinctly, a treasure trove of local history.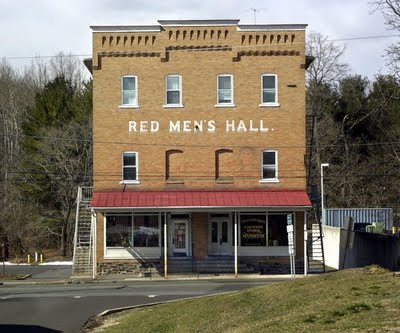 Just the name painted on the front of the red brick building, Red Men's Hall, arouses curiosity in any history buff. Inside are thousands of artifacts and numerous displays and exhibits graphically depicting the rural past of the Upper Perkiomen Valley. It is all part of the Goschenhoppen Historians' Folklife Museum and Library.
The Red Men, according to museum director Abe Roan, were a fraternal organization made up of men from all walks of life in the Perkiomen Valley who admired the "communal lifestyle of the American Indians.
"Indians saw their tribe as just a large extended family that held everything in common," Roan said. "Lodge members saw this as an admirable thing and because of that admiration started a fraternal lodge where members would take care of each other and help each other."
The three-story building, Roan pointed out, was built in 1 907, with a second floor meeting hall where they "held shows and had all kinds of fund raising events and used the money from them for lodge members' needs."
For many years the Red Men leased the first floor of the building to the Green Lane Bank and a general store, Roan said. The third floor of the building, he added, was much more private; a sanctum sanitorium where secret rituals were held. Roan explained that the Red Men, who often dressed as Indians and attended special public events like parades, were nonetheless a secret society much like the Masons. Roan even pointed out a peep hole in the front door entering the third floor, where visitors would be scrutinized before entering; kind of like a speakeasy during Prohibition.
The Goschenhoppen Historians (Goschenhoppen, according to local legend, refers to a large area of the Perkiomen Valley and is a German transformation of the name of an Indian chief named Shakahoppa, who formerly controlled that tract of land) bought Red Men's Hall in 1970, and thanks to their dedication and tireless efforts the building is now an intriguing museum that serves as a local history lesson to anyone who visits.
"As soon as we got the building we started accumulating things," Roan said. "We went to yard sales, we went to auctions and a lot of items were generously donated. It has worked out very well, and we think we have something special to offer the public."
The entire building is brilliantly utilized to give visitors a provocative look into the surrounding area's past, with an emphasis on Pennsylvania German culture of the 18th and 19th centuries.
The first floor is a replica of an old general store, with such things on display as wooden barrels, farm implements, horse riding apparatus, even a giant (1848) coffee grinder and old post office windows and boxes. Many of the items, Roan pointed out, came from other general stores in the area when they closed.
"People could get just about anything they wanted at a general store," Roan explained. "And if something wasn't in stock, they would order it and it would be delivered by the Perkiomen Railroad," a branch of the Reading Railroad that from 1873 to 1948 ran from Port Kennedy (Valley Forge) to Emmaus.
The second floor meeting hall has beautiful chandeliers, along with a large plaque listing presidents of the former lodge, referring to them as Sachems (chiefs) of the Tohickon Tribe, which the lodge was known as. There are also many paintings of historical buildings in the Perkiomen Valley on this floor, as well as interesting charcoal enhanced photographs of former lodge members.
The third floor, known as the Goschenhoppen Folklife Museum, has many items on display, all of which, as Roan pointed out, are hand made and predate 1870.
"The early 1870s were the beginning of the second Industrial Revolution," Roan said, "Things began to change dramatically and there were more and more machines in use. Since the Germans took so much pride in their craftmanship, everything on display was made before 1870."
One room on the third floor holds the German folklife library. Another, which Roan called the Zeigler parlor, has items, some made locally, "that are dated 1823 or older," including a large spinning wheel and an organ made in Skippack. In an adjoining room there is a detailed display of local cigar making.
In the main museum room there are displays on all facets of a lifestyle and era that are long gone. There are, for instance, exhibits on open hearth cooking and baking and the processing of flax. There is a needlework sampler and various pieces of folk art; a craftmen's shop and a weaver shop.
There is also an 1820 kitchen with a beautiful piece of folk art, a hand-painted corner cupboard; as well as a farm display with numerous old implements, including a 250-year-old plow.